It All Started With a Mouse Vacation!
Some of you may remember my almost, but not quite, adventure of applying to be on the Disney Moms Panel last fall. Advancing from tens of thousands to the semi-finals was exhilarating, and although I didn't make it to the finals, knowing that Disney actually thought I might make a good candidate was a great consolation prize. My friends' encouragement that they just knew Disney HAD to choose me, solidified my belief that I could and someday hopefully would make the panel! Unfortunately, despite one friend's thinking, I did not get extra credit for traveling all the way from Indiana, and much to her surprise, there really are more Disney obsessed moms and dads out there as crazy about Walt Disney World as I am. And now, making the panel is my biggest goal.
I know some of you are thinking, "What the heck is the Disney Moms Panel?" Its an online panel of both moms and dads who help answer future Disney guests' questions about planning their trips. You can see the current moms and dads and check out the site
HERE.
Some of you who know me well, know that I'm already a kind of a local Disney Mom Panel of my own. The Disney moms and dads on the panel however, get to do it officially! While not Disney cast members, they still get to be a recognized part of the pixie dust. When I advanced to the semi-final round, I found this awesome video of the training weekend from 2009, and with all my heart wanted to make that panel! (note if you watch the video, you may need to pause this site's music, found at the bottom of the blog)
Since not making the cut last fall, I have been thinking of (okay, plotting) a way to be chosen for the 2012 Disney Moms Panel. One of the questions they have asked the past several years has been focused on the use of social media. They have specifically asked if you have a blog. And several of the current panelists do. So I decided to "join the jamboree", and start my own Disney vacation planning blog. I spend a good deal of time helping friends plan their vacations, and also friends of friends, people online, and complete strangers I meet in Target for that matter. Why not start saving all that information I type out and email to people, and put it all in one place? And so this blog was born!
I have already created several pages of basic Disney planning advice. If you or someone you know is planning a trip, have them take a look. They can also email me, and ask me any questions about planning they may have. I still have a few pages I want to get up, specifically one on Do's and Don'ts, and one on touring plans.
In addition to the static pages(listed to the left as "Basic Planning Advice"), I will be doing blog entries from time to time, hopefully one every one to two weeks. These entries will be more about Disney planning, but also about fun Disney things such as book reviews, Hidden Mickey's, restaurant reviews, new attractions and information, and trip reports. I also plan on having some of my Disney obsessed compatriots write guest blogs. I'm hoping to have one coming soon on runDisney, as well as my own post with personal photos and information on Disney's newest resort hotel and spa, Aulani, on Oahu, Hawaii. There are quite a few blog entries already, composed of prior trip reports I have posted on
Mouseowners.
On the left side panel of the page I have also added links to the sites I most often send people to such as
MouseSavers,
MouseMisers,
and
The Unofficial Guide's webpage TouringPlans.com.
So please, share my site with family and friends that might be thinking of a trip to Walt Disney World, or who just love Disney in general. If they are interested in coming back they can register and sign in with Google as a follower of the blog, or even submit their email at the top of the blog, and they will get new posts sent to their inbox. Anyone can email me anytime with questions at
dizkrazkate@gmail.com.
Thanks everyone! Have a Magical Day!
Kate
Me, age 13, with my family, after returning from performing at Disney's Magic Music Days in August 1989


.




The next trip at age 15, at a character breakfast at The Contemporary, second trip for Magic Music Days, Aug 1991.
First trip to Disneyland, CA. With my Notre Dame roommate Adri, March 1995.
First trip with the kids and hubby, summer 2008. We won Year of a Million Dreams Fastpasses!


First Trip as Disney Vacation Club members. Animal Kingdom's Kidani Village Sept. 2009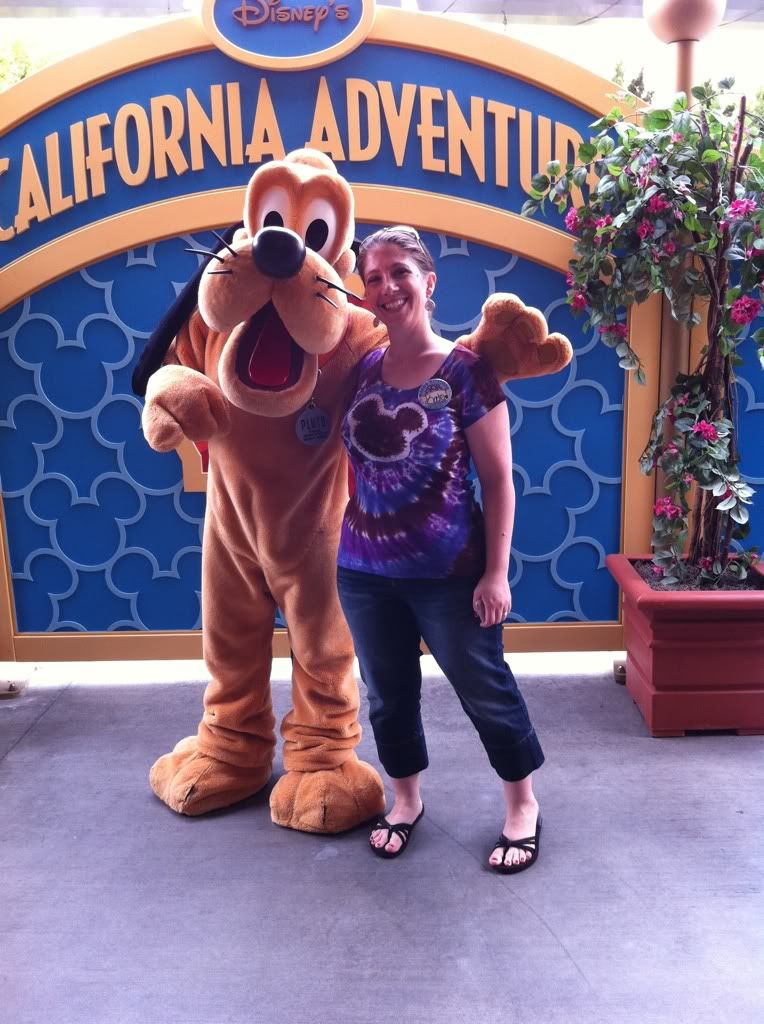 35th Birthday at "The Original" Disneyland, CA. June 2011