For months now rumors have been circulating about a new Disney Vacation Club Resort at Disney's Grand Floridian. Cryptic permits have been filed, ground stakes have been seen, weddings rescheduled from the Wedding Pavilion, even rumors of overhearing Disney Imagineers in the next room at Saratoga Springs discussing the layout of new rooms....
But now, an official announcement! Clair Bilby, DVC's new Senior VP announced yesterday at the annual Condominium Association Meeting, that "Disney's Grand Floridian Villas" will be opening in late 2013. Or will it be "The Villas at Disney's Grand Floridian"? Check out the official artist's rendering.
If you look carefully, you can see the Monorail coming around the corner in the upper right!
With Bay Lake Tower almost sold out, and plenty of new tourists coming to Disney and wanting new DVC resorts to purchase, it makes perfect sense that Disney would be looking for something new and exciting to offer. I can only speculate that like the Villas at the Grand Californian and Bay Lake Tower, the price per point will be quite high, at least $140/pp, and I would also venture to guess the number of points needed to book the rooms will be high as well.
Here's another image released yesterday, an artist's rendering of the possible interior view of the lobby. It appears to be at least 5 stories tall, and has the beauty of the Grand Floridian we already know and love, but with a more intimate "Welcome Home" DVC feel. The announcement states that there will be a total of 147 villas available. This is on the smaller side for DVC. In comparison, Bay Lake Tower has 295 2-bedroom equivalent villas, while Saratoga Springs has over 1,200! The Villas at Wilderness Lodge is will be the next smallest on property, with just over 180 villas.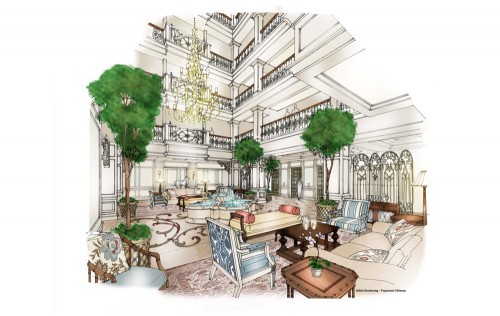 If you're trying to get a better idea of where this building will be located, check out this image below. I personally was able to see this area while riding the Monorail this past September, and indeed there were stakes in the ground and things appeared to be marked off.
This looks to be a great addition to the Disney Vacation Club. Bay Lake Tower's location on the Monorail line has been very popular, and I would think the Monorail will be a big selling point at the Grand Floridian as well. Although the building will be separate, there should be lovely walkway to connect the DVC building to the main Grand Floridian. Ms. Bilby also mentioned a children's water play area, and I would assume a pool. My children love the water play area at Kidani Village, and I would love to see something like that here.
So, what do you think? Will you be saving your pennies to buy Grand Floridian points?
Now if we could just convince them to built DVC at the Poly.....