Except in a few rare circumstances, I always recommend staying on property. When you take into account all the benefits of staying at a Disney Resort, the possible small increase in price is well worth it. Often a Disney Resort is not more expensive at all, but can actually be more affordable than off-site depending on how you travel.
DizKrazKate's Disney Tips in a Nutshell
Free roundtrip transportation via Disney's Magical Express between Orlando International Airport (MCO) and your Disney Resort
.
Magical Express Luggage Service where Disney picks up your bags from baggage claim for you, and transports them to your resort. They will magically show up in your room 3-4 hours after your arrival! (actual pixie dust not included)
Free transportation throughout the Walt Disney World Resort via buss, Monorail, and boats.
Access to Disney's Extra Magic Hours, where you may enter a park up to an hour early, or stay up to three hours later than off-site guests.
Convenient use of Disney's the innovate Magic Band system for your room key, park ticket, dining plan credits, and charges.
Ability to use the "My Magic Plus" system to book FastPass+ reservations 60 days in advance. Day Guests may only book after arrival in the parks each day.
Ability to book the Disney Dining Plan, and sometimes even get it for free during certain promotions!
Free parking at all Disney Theme Parks.
Ability to book hard to secure Advance Dining Reservations ahead of off-site guests.
Delivery of your park purchases to your resort room.
Resort Refillable Mugs
Resort Airline Check-in (RAC) at your resort where you can check your bags and receive boarding passes for your return flight
If you are the type of family that is content with public transportation, staying on property and using Disney's free transportation is a big money saver. It alone can save you hundreds vs. staying at an off-site hotel. Disney will provide you with free round-trip transportation via motor coach from Orlando International Airport via their Magical Express to your Walt Disney World Resort. If you wish to use it, Disney will also provide free luggage service to those using the Magical Express. Before your trip, you will receive bright yellow luggage tags. These tags go on your checked luggage. At the airport, you can skip baggage claim and go straight to the Magical Express! Disney will claim your luggage and transport it to your resort hotel. Your luggage will then "Magically" appear in your room in 3-4 hours. What a treat not to have to haul your luggage! Do keep in mind that your luggage does not travel with you but on a separate truck, and it won't arrive until after you do. So pack what you may need in the immediate future in your carry-on, such as park tickets or sunscreen. We often arrive late morning or early afternoon, and I pack swim suits and sunscreen so we can swim at the resort pool while we wait for our room to get ready. Usually when we get the text message our room is ready, we go to our room and find our luggage already there. One thing to keep in mind though, is that the luggage service is not available after 10pm. If you arrive after 10pm, you will need to claim your own bags, or be content without them until the following day.
While visiting the parks, you have unlimited free use of Disney's Resort transportation buses, boats and monorail. If you consider cost of a rental car from Orlando International for a subcompact from Avis is $360 in the month of August, plus parking for 6 park days at $14/day for total $84, plus gas at $3.50 to $4.00 a gallon, your total additional cost of staying off property with a rental car is an additional $500 for a week! That means, whatever fantastic deal you found off property.... add an additional $70 a night to that price. Disney Resorts are sounding pretty good right now aren't they?
When staying on Disney property, you will be able to use the fabulous new My Magic Plus system and the Disney Magic Bands. Besides opening your room door, the Magic Bands are your park ticket, your FastPass+ tickets, and they can be used to charge purchases and meals to your room, gain entrance to Extra Magic Hours, and if you are on the Disney Dining Plan, it is used to charge your food to the plan.
Disney Resort guests are eligible to participate in Extra Magic Hours (EMH). On most days one of the parks opens an hour early or stays open up to 3 hours late for Disney Resort guests only.
Only Disney Resort guests can purchase the Disney Dining Plan (DDP). This is a pre-payed meal plan that gives each person a certain number of meal credits per night stay. Depending on how you dine, this can be a money saver. It certainly can be a convenience and time saver, and frequently it can be had at a discount or even for free during promotions for slower times of the year. Click on
this link
for more on the Disney Dining Plan.
Current 2011 Mugs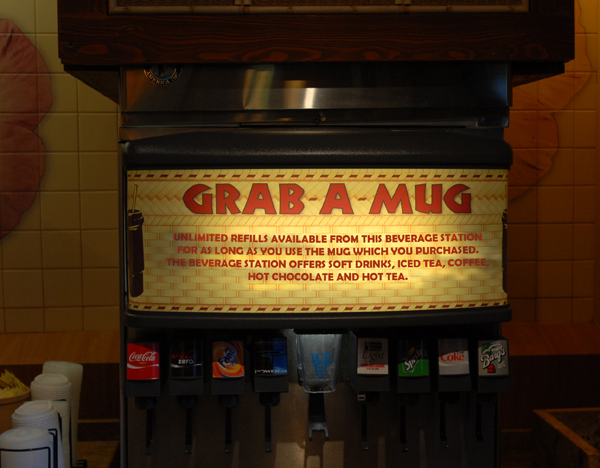 A Resort Mug Refill Station
You may also purchase a Resort Refillable Mug to use at your Disney Resort. This mug runs around $18 for a length of stay mug, or is included in the DDP starting in 2012, and can be used for unlimited soft-drink, coffee and tea refills at your resort for the entire length of stay. Usually Coke products, some form of Powerade, Minute Maid Light Lemonade, and sometimes ice tea, in addition to hot coffee and tea are available depending on your resort.
If you are trying to secure that hard to get dinner at Be Our Guest or the ever popular Le Cellier, staying on property can give you a leg up. Disney's Advance Dining Reservations (ADR's) open to booking 180 days in advance. However, if you are a resort guest, you may make dining reservations for your entire trip, up to 10 days, starting 180 days from your check-in day. This means if you are checking in on a Sunday, 180 days prior to that day you can book ADR's for that day, plus the entire following week up to an additional 10 days. If you are off-site, you can only book 180 days in advance one day at a time.
One benefit we frequently use is the resort package delivery service. Sometimes when you find that perfect gift, you are tempted not to purchase it because the idea of lugging it around the park all day like a pack mule is totally unappealing. If you are a Disney Resort guest, you can make your purchase and have it delivered to your resort by the following day! You simply fill out a simple form, and sometime the following day you will receive a message on your resort room phone that your package is ready for pick up in the resort gift shop. The only important thing however, is to not use this on the last day or two of your trip as your purchases may not get to your resort until the following afternoon. For big, hard to pack items, or an item you do find on your last day, Disney can ship them for a fee directly to your home!
Disney even makes going home easy! Most major airlines participate in RAC, or Resort Airline Check-in. Each Disney resort hotel has a RAC desk. The morning of your departure you can go to this desk and get boarding passes and check your luggage. If you have any luggage fees, you will need to call and pay for the bags the night before. Once your bags are checked you won't see them until your home airport. No need to lug them to the airport. You can use this service with or without using Disney's Magical Express. We always use this service. If we are going into the parks for a few last hours before our Magical Express bus, we leave our carry on with bell services. When we return, we pick our carry on bags, and are ready to go to the airport. No dragging of luggage required! (Dragging the kids home is bad enough!)
I'm sure you can see there are multiple great benefits of being on-site. On top of all the practical perks, we just enjoy being "part of the magic" while at Disney. How can you beat Mickey Mouse on your soap and in your swimming pool? Or walking to a park from your resort? Or getting up in the morning and drinking your coffee while watching giraffe? We don't think you can.