Planning your Magical Disney Vacation is a big part of the fun! Even experienced Disney folks like myself spend a good deal of time planning out a trip. I've jokingly often said "If you are not prepared, Disney World will eat you alive". This page is designed to help you avoid that, and develop a plan!
DizKrazKate's Disney Tips in a Nutshell
Do not show up to Walt Disney World with the idea you are going to "wing it", especially with kids. If you do "wing it", do not complain about your trip when you return. You have been warned.
Decide which park you are going to on which day of your trip and make dining reservations appropriately.
Use EMH mornings if you are a Disney Resort guest, avoid all EMH if you are off property.
Use Disney's FastPass system to your advantage.
Disney is not the time to sleep in. Get up and be at the parks before they open.
Take a break in the afternoon.
Decide which attractions you want to hit and have a touring plan for each day.
If you have already seen the parade or fireworks once, skip them the second time and hit the rides with low crowds.
Consider a subscription to TouringPlans.com. Full price will cost you around $11, but it gives you access to crowd level calenders, daily touring plans for all types of vacationers that you can print out, and access to their smart phone app that gives you in park wait times. It's worth every penny!
Think about what you would do if you didn't know any better. That's what everyone else is doing, so do the opposite!
Decide Which Park or Parks You are Visiting Each Day
Disney generally releases its park hours 6 to 6 1/2 months ahead of time. Once park hours are posted, you are ready to start your planning! If park hours are not released yet, you can look at the previous months' hours as a guideline for what the park hours may be while you are there.
The Mouse himself during Fantasmic!
The best place to begin choosing a park for each day is whether or not you have Park Hopper. If you have Park Hopper you can visit one park in the morning and another in the afternoon. If you have skipped the Park Hopper option, you need to pick the number one most important park for each day.
Start with planning your day for Hollywood Studios based on Fantasmic. During most of the year, Fantasmic is only offered on certain nights, generally Sundays and Thursdays. Sometimes during busy seasons they will offer it on more nights, or twice per night. If it is only offered on Sundays and Thursdays, one of those nights will need to be your Fantasmic night if you wish to see it. If you are not going to view it, avoid Hollywood Studios at all cost on those nights. If there are two shows available in a single night, the later show will be less crowded.

Look at the Extra Magic Hours (EMH). If you are off-property, you should not go to a park that is having either morning or afternoon EMH that day. Choose a park with NO Extra Magic Hours.

If you are on property, choose the park with morning EMH. Yes, I know getting up early does not sound like vacation, but you can get more done in that first hour than you can get done between 12 and 3 pm.

Evening EMH can be tricky. For the Magic Kingdom especially, I think it can be even more crowded. Stick with morning EMH, and try to stay away from evening EMH, especially at MK.

Watch out for nights that a park, especially Magic Kingdom, closes early. This is often because of an after hours party like the Halloween or Christmas party. Avoid Magic Kingdom on those days unless you are attending the party.

Also, Magic Kingdom does not offer both the parade and fireworks on every evening during slower times. If you want to see both, take that into account while planning.

Animal Kingdom closes early. Generally 5pm or 7pm. This allows for a shorter touring day, and you can have a quieter night. This may be good to schedule in the middle if plans allow to get a mid-week rest.

Finally, consider that subscription to TouringPlans.com. While it usually posts the upcoming few weeks for public use, a subscription will give you access to a year's worth of crowd estimates. It will rate the estimated crowds for a day on a scale from 1 to 10, and it will also recommend the best and worst parks to visit on any given day. If, for example, you are deciding between Animal Kingdom or Epcot on a certain day of your schedule, TouringPlans.com may recommend one over the other.
Tinkerbell's Nightly Flight Over the Magic Kingdom
Now, will you be able to make a schedule that follows ALL of the above guidelines? Probably not. But it will help you decide which parks might work better for your family on any given day. It's not supposed to be perfect, just better than going without a plan. You don't want to show up at the Magic Kingdom on your only day there, to find out the park closes at 7pm and there are no fireworks after you promised your Tinkerbell obsessed 4 year old she would get to see Tink fly.
Making Advance Dining Reservations for Your Trip
Now that you know which park you will be in or near on each day of your trip, its time to plan your dining for each day. If you will not be eating at any table service restaurants, and will be eating at your resort, room or off-site, you do not need to worry about this.
If you do plan on eating a sit down meal on property, you should make Advance Dining Reservations (ADR's or "ressies") as soon as possible. Most can easily be canceled, so its better to at least make some kind of reservation that fits your plan, rather than waiting. If waiting for family who says "I don't know, let us think about it", is going to make you not get a ressie at Chef Mickey's or Ohana's, just make ressies and you can change it later! Certain places are very popular, and fill up very quickly, and Le Cellier, or the Fantasmic Dining Package
may be
totally booked exactly 180 days in advance. I always call or get on the computer at opening exactly 180 days in advance and I have NEVER been able to book that elusive Fantasmic Dining Package! If you are more than 180 days out, I recommend getting up and loading Disney's Dining Reservation Page at 0600 Florida time on the 180 day mark to get the places and times you really want.
I have heard stories of people writing scathing reviews of how much they hate Disney World because they promised their granddaughter she could eat with Cinderella, and then when she showed up at the castle expecting to eat she was told they were booked. Disney ruined their granddaughter's dream.
I'm sorry, but that's not Disney's fault.
Dear Husband at Halloween Time with Chef Mickey!
If you are relying on Disney Transportation during your stay, be cautious about making ADR's at resorts other than your own. It can be very time consuming to travel from one resort to another, and it might take up too much of your time, or be a big hassle to change buses with kids. If you really want to eat somewhere at another resort, keep travel time and your daily location in mind. If for example you would like to hit the buffet at Cape May Cafe at the Beach Club Resort, plan this for a dinner on the day you are visiting Epcot. If you are going to Chef Mickey's at The Contemporary for breakfast, or 1900 Park Fare at The Grand Floridian for dinner, plan this for a day you will be vising the Magic Kingdom. You may also consider the cost of a Taxi for early morning breakfast at other resorts. The cost will be around $25, and it may be worth the time savings. Or just make life easy and make all your ressies within the park you will be visiting, or your own resort!
At this point you should have a plan of which park you will visit each morning and afternoon, you evening entertainment if any, and your sit down meal for the day. Here is a copy of my spreadsheet I used for our trip in August 2010.
The DizKrazKate Family Walt Disney World Vacation
Disney Vacation Club-Kidani Village, 2 Bedroom Villa, August 4-10, 2010
6 adults and 4 children- Disney Dining Plan
Wed.
Thurs
.

Fri.
Sat.
Sun.
Mon.
Tues.
bkfst

@airport in Chicago

In our room

In our room

Chef Mickey's @

7:15

In our room

In our room

In our room

morning

Fly to Orlando! Mickey Here we come! Magical Express to Kidani Village

Epcot

EMH @ Studios 8am

TOY STORY MANIA!!!!

Magic Kingdom

EMH morning @Epcot 8am

EMH morning @ Animal Kingdom

8am

Resort airline check-in, then to Magic Kingdom

lunch

Quick Serve@ The Mara

Le Cellier@ 11:30

Quick Service @ Studios

Snacks @ MK, Dole Whips, Funnel Cake, etc

Quick Service @ Epcot

Tusker House @ 1:15pm

Tony's Town Square @ 12:00

afternoon

Nap/rest/swim at resort

Nap/rest/swim at resort

Hollywood Studios

Nap/rest/swim at resort

Nap/rest/swim at resort

3:15 Reserved seats Nemo The Musical

Magic Kingdom, then Magical Express to MCO

dinner

Whispering Canyon Cafe, Wilderness Lodge

@ 5:10

Quick serve @ Hollywood Studios

Boma @ 5pm

Quick Serve @ Columbia Harbor House

Princess Dinner, Norway in Epcot

5:15pm

Quick Service @ The Mara

Quick Service take out @ MCO

evening

Magic Kingdom!

Hollywood Studios

Relax at Resort, enjoy animals, resort activities

Magic Kingdom

Epcot

Disney Family Photo Session at Jambo House @7pm

Fly home to Chicago-Midway

special

Rides while lines are short during parades and fireworks

Fantasmic! 9pm

Poolside movie at Kidani 8pm!

Nightastic @10p

Main St. Electrical Parade@11pm

Illuminations, Reflections of Earth 9pm

Last night swim, waterslide

Good-bye Mickey

Notes,

ADR#'s etc….





















** To choose which park for each day- Find what nights Fantasmic is showing, make that a Hollywood Studios evening. Use Extra Magic Hours morning hours as much as possible. If there are still multiple good choices for each day, consult Touringplans.com for best/worst parks ratings.
It can be a lot of information, and you can copy the above if you like, or create your own method. For an easy way of keeping track, you can buy a
PassPorter book.
You can also get one from Amazon. It is a great tour guide with pull out maps, and full color photos. In the back are their famous PassPorter pockets where you can record and store information such as plans and ressie numbers for each day of your vacation. I highly recommend it.
Touring Plans 101
Once you are getting closer to your actual trip, you can work on a touring plan for each day. Just like scheduling what park you are going to for the day and having ADR's prevents the old "Where are we going today?" and "Where should we eat?" debate, having a touring plan prevents having an entire family huddled around a park map deciding "What should we do next?".
There are several ways to make or get a touring plan for each park. You could look at a Disney guide book and park map and decide on your own which attractions you would like to take in, and in which order. I would not recommend this unless you are an experienced WDW traveler.
My best recommendation is to use TouringPlans.com's tour plans. This website was born out of "The Unofficial Guide To Walt Disney World" books. I really feel they are the best guide books out there for Disney. If you're only going to buy one, this is that one. See it here on Amazon.
I personally have used and always recommend these touring plans. The first year we went with kids, I decided to use their guide for families with small children. My family thought it was a little nuts to have the day so scheduled, but it WORKED! My family thought me a genius! Before you were mostly limited to the several touring plans located in the back of the book, but now with their website, there are many many more plans. You're bound to find one that fits your family. TouringPlans.com's plans are well thought out and well researched by their own in-park teams to figure out the best way to see the most of the parks in the least amount of time. That first morning in Magic Kingdom, without EMH, we were able to see the opening show, then rode: Dumbo, Carousel, Peter Pan x2, Small World, Haunted Mansion, Mickey's Philharmagic, have an ice cream break, Winnie the Pooh, the Teacups, the Barnstormer x2, AND ride the train to the front gate all by 11:45. And this was in the summer!
Screenviews on TouringPlans.com's app "Lines"
I won't re-post their plans here, as they belong to them, but the small $11-$12 subscription is well worth it. I do believe they have a free touring plan for each park available on the site. Choose which plan appears to be best for your family, and print it out. If something on the list is not appealing to you, just skip it and move to the next attraction on the list. Now, don't turn into a drill sergeant with those plans, but use them as a guide. You will save time just by having a plan, and then their plans in particular are designed to save time based on when certain rides have the longest or shortest waits. If you do not want a subscription, but are interested in their plans, you can almost always find a copy of "The Unofficial Guide to Walt Disney World" at the library.
You can download their app "Lines" for free, and as long as you have a subscription to the website, you can login to the app, and get all that handy information on the go! Plus it gives you current wait-times for rides, and FastPass return times. Before you hike across the park to get FastPasses you can see if there are even any left!
While at the Most Magical Place on Earth
Rope Drop
Rope Drop (RD) is the moment that Disney literally "drops the rope" and lets everyone into the park for the day. Yes, they actually do drop a rope! Making Rope Drop means you are there when the drop happens, and are one of the first people let into the park. To really get the most out of your time at Disney, you must make Rope Drop. Do you need to be the person AT the rope? No, of course not, but you should be part of the crowd behind those folks. You can accomplish in that first hour, what will take most people 2 to 3 hours to do in the mid-afternoon. RD is the least busy time of day. Do not sleep in, you can go back for a nap later!
At the Magic Kingdom, there is an opening ceremony where Mickey arrives on the train, and everyone counts down from 10 to open the park with the "Family of the Day". Instead of the crowds of 20,000 to 50,000 that will share the park at 3pm, there may only be a couple hundred to thousand at opening. If you'd like to watch the opening show below, pause this blog's soundtrack prior to playing the video.
There is also an opening "show" at Animal Kingdom, and a little countdown at Epcot. Hollywood Studios has a little coundown, and then honestly it is slight chaos as everyone chooses Toy Story Mania or Star Tours as their starting point. Rope Drop is the ideal time to pick your top two rides and get a Fastpass for one and ride the other!
How to Use Disney's FastPass System
FastPass is a great way to help make your wait times for popular rides shorter. While this type of system also exists at Universal Studios, theirs has a fee, where at Disney the service is FREE! (Shhh...a lot of folks don't know this....more FastPasses for us!)
Once a ticket has passed through the turnstiles, it can be used to get a FastPass for select rides. What I suggest is having one family member be the "fastpass runner", and be responsible for all park tickets in the group. (Please don't actually run!) That person can then go by themselves to the FastPass ride kiosk to get the passes for the entire group. Then the runner can rejoin the group at a pre-determined attraction.
While at the FastPass Distribution Kiosk, you put your park ticket or KTTW card if your tickets are on there, into the FastPass machine. It will drawn in and read the ticket, then spit it back out. This is to make sure you don't forget your ticket! Pull out your ticket, and then the machine will spit out your FastPass into the slot below! Your Fastpass will have a return window of which you are to return to ride the ride. That time may be in an hour, or 8 hours, as they are distributed on a first come first serve basis. It will also have printed in small letters at the bottom, when you can get a subsequent FastPass. Usually that time is in 2 hours, or the time at which you can use the FastPass, whichever comes first.
Now, the following is a source of debate. Although Disney will strictly enforce the return time on the pass, until recently they did not enforce the expiration time on the pass. Some feel this it is wrong to return after the window, others feel it is not a big deal. Since I have personally heard two Cast Members at a FastPass return line shouting to the crowd that it is okay to return after their FastPass time has officially expired, I felt it was okay. However it has been reported that changes are coming to Disney involving Next Gen technology. In preparation for this new system, Disney is now instructing Cast Members not to tell guests they can return after the pass has expired. It appears as of this date, they are still not stopping people from using them after the expiration time, but they will if it is very crowded. At this point it is up to you to decide if it is worth the risk or not. We may try it during our upcoming trip and I will report back. I'm not sure entirely what this "Next Gen[eration]" techology entails, but I suspect Fastpasses may become available for Resort Guests only, or perhaps Resort Guests can make a reservation or sorts for a certain number of Fastpasses per day.
Here is a quickie video on using the machines. Don't forget to pause this blog's soundtrack at the bottom of the page.
My oldest after a long Disney day
Take a Break. Take a Break! Take a BREAK!
Disney can be an overwhelming place with lots of people, lights and noise. Even for an obsessed Disney person like me, it can be sensory overload. I highly recommend if you are staying more than 2 days in the parks, that you incorporate a mid-day break. This is probably one of the single best pieces of advice I can give. The only exception to this is a day at Animal Kingdom. Since the park closes early, this is the only day I don't recommend leaving and coming back later.
Ideally you are staying on property, and can take a quick bus ride back to your resort. Nap, swim, do both, whatever, just get out of the parks for a few hours. If you have small children, or even elementary school kids, a nap is a good idea. While none of my boys nap at home, all are required to nap at Disney. Honestly, they are so tired from getting up early and going all day, staying up late for fireworks, they all seem to nap just fine! You can either grab lunch in the park, and then head back to your resort, or grab a quick lunch at your resort before your swim/nap time. Then return to the park in the late afternoon/early evening. We are usually out of the park by noon, and returning around 4 or 4:30pm.
If you are adults who don't or can't leave the parks easy, or a family with kids who just needs a break, you can try to find some down time nearby. Ideally you'd like to find some air conditioning, and a place to sit, escape the crowded parks, and just get a break from the overstimulating place that Disney can be.
At the Magic Kingdom:
My oldest son with my Mom and Dad on the WDW Railroad
The Magic Kingdom has the best places to get a quick rest. Get on the Walt Disney World Railroad. Just stay on and ride around as many times as you need. Its cool and much quieter than the rest of the park.
Ride the Tomorrowland Peoplemover. It is a slow and cool ride, and often it is not very busy and the Cast Members will allow you to stay on board.
You can leave the park entirely and ride the Monorail. It is also cool and quiet. You can ride to Epcot and back or the Resort Monorail Loop as much as you would like. If you would like to get off, you can explore some of the hotels on the loop, either the Contemporary, Grand Floridian, or Polynesian.
At Epcot:
You can also jump on the Monorail to the Magic Kingdom, and ride back and forth as much as you would like.
At Epcot, the Monorail actually goes through the park!
You could also exit Epcot via the International Gateway (between Great Britain and France) and walk to either the Boardwalk, Beach Club, or Yacht Club resorts and wander, or just find a bench to sit down and rest.
The American Adventure is a 25 minute animatronic stage show that is cool and dark, several of my family members have fallen asleep during this show.
At Hollywood Studios:
This park is a little more difficult to find peace and quiet. If you can't return to your resort, you can take the long walking path to the Yacht and Beach Clubs, or board a Friendship Boat to the Beach Club or Boardwalk.
At Animal Kingdom:
Usually I think it is better to just push through the day and leave around 3 or 4 o'clock for a restful late afternoon and evening. If you really need a break, first consider the Finding Nemo Musical. It is inside and air conditioned, and it lasts around 45 minutes.
If this is not an option, you could always bus over to Animal Kingdom Lodge and explore the resort and animal viewing areas, or sit down in the large lobby and take a rest.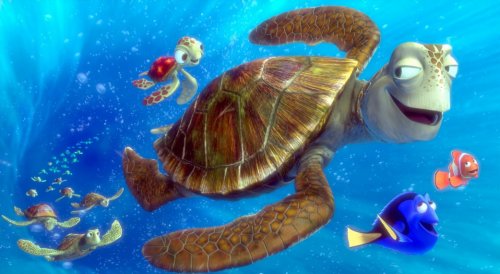 "
Do You Have An Exit Buddy?" -
Crush in the movie"Finding Nemo"
In order to maximize your fun time, and decrease the time spent waiting on line for your bus/boat/Monorail/parking lot tram at Park Close, you need to have an exit plan for each park at closing and/or after the evening entertainment.
Magic Kingdom:
This is by far the most important park in which to have an exit plan, and there are several options. The most important starting point is "Are there two parades tonight"?
Wishes at the Magic Kingdom
Plan A:
(my personal fav) Stay Late! You will spend less time in line to exit if you stay for the later parade or stay in the park a while after the Wishes firework show. Don't underestimate the sheer number of people leaving immediately after Wishes. No matter if there are one or two parades, most people watch the first, then stay for Wishes fireworks, then leave immediately after the fireworks. Therefore, you don't want to be one of them! Stay and see the second parade, if there is only one, and take your time exiting, or get a good location near the exit (see Plan B for a recommendation). A good parade viewing location is usually much easier to get for the second parade, maybe 20 minutes ahead of time. If there is only one parade, see Wishes, and again take your time exiting.
The shops on Main Street USA stay open an hour or more after official park closing. Take your time and mosey through the shops, window shop, and pick up all those Mickey Souvenirs you've been wanting. After 30-40 minutes or so, you can consider a restful walk to the exit. Or just sit on Main Street and soak in the Magic. The lines are usually much shorter for the buses and Monorails by now.
Main Street USA at night
Although you might think you want to leave earlier to get the kids to bed, staying an hour and a half later in the park, may only get you back to your room 30 minutes later than if you left immediately.
Plan B:
(only if you are desperate) If you really must leave with the throngs of fellow Mouseketeers, you should position your viewing area as to allow for a swift exit. While the balcony of the train station is popular, you must get there incredibly early, so I don't feel its worth it. The best locations are on the street, either in front of the train station facing the castle, or across the street from the train station on the curb of the flagpole area. You will have your back to the castle to watch the parade, then turn around and face the castle to see Wishes. If it is a busy time of year, you may have to stake out your spot an hour ahead of time. Immediately after wishes, do not hesitate, do not pass go, do not collect $200 Disney Dollars, but turn around and swiftly head out the left exit toward the buses. Do not run, but give it a New York walk. If you are pushing strollers, look for the Cast Members with the large white Mickey gloves, they will direct you to the stroller exits.
Epcot:
You'll need to decide what is most important to you, an ideal location to watch Illuminations, or an easy exit.
The docks right by the "Showcase Plaza" tag. To the left of the tag, the stores mirror each other.
If you decide you want the best viewing location, you may have to sacrifice an easy exit. We like to see the show, and still get out in a reasonable time frame. I find the best place to do this is in the area where Future World meets World Showcase, in between the two Friendship Boat docks between the two gift shops.
In the map above, you can see the area in the upper right corner labeled "Showcase Plaza", behind the boat docks, there are two gift shops, and between the two gift shops are two grassy planting areas. THAT'S IT! We like to stand right behind or around those grassy areas and watch the show. As soon as the show is over, about face, and out you go swiftly across the bridge and head past Spaceship Earth (the golf ball thing) and to the exits. Again, be safe, but this is not the time to mosey.
Granted you are not right at the edge of the water, but we can still see pretty well, the area is never crowded, and we are always one of the first groups to the bus stop. We are probably back at our resort before the people who were watching from the American pavilion are even at the bus stop!
Hollywood Studios:
See that staircase all the way on the edge of the crowd? That's it!
This is really only necessary for Fantasmic nights. If the park has no Fantasmic and a regular closing time, either leave a little early, or stay and shop your way out as in the Magic Kingdom plan. During especially busy times, there may be two showings of Fantasmic, of course, as in the Magic Kingdom, going to the later show is preferable. It will be less crowded and you will have an easier time exiting.
If you are going to see Fantasmic, I have found a slightly hidden official way out! After the show is over, stay in the stands, and proceed all the way to the right side of the seating area (as you look at the stage) to the Dining Package area. Take that last exit all the way on the far side of the seating area. Once out of the seating area, go left down the pathway at a safe clip. This is the same pathway that that the Dining Reservations folks come in. There will be many others going this route as well, but the majority will exit the way they came in, and end up near Tower of Terror. The path will take you behind the Beauty and the Beast stage. At some point close to the end of the path, it will split (usually). Take the left. You will come out right by the restrooms and camera shop on Hollywood Boulevard. Make a bee line for the exit to your left and off y0u go! If you can't go left at the split in the path, then continue on straight ahead, and you will end up back on Sunset Boulevard. You still have a slight head start just because the route is shorter and less crowded than the main exit.
*I have yet to find this path on any official Disney map, but I've taken the route several times and it does indeed save you time.
Well, this page is has got A LOT of info! But these tips and tricks are how my family enjoys all that Walt Disney World has to offer while staying cool and avoiding long lines at attractions. You could still try to wing it....but I wouldn't recommend it.