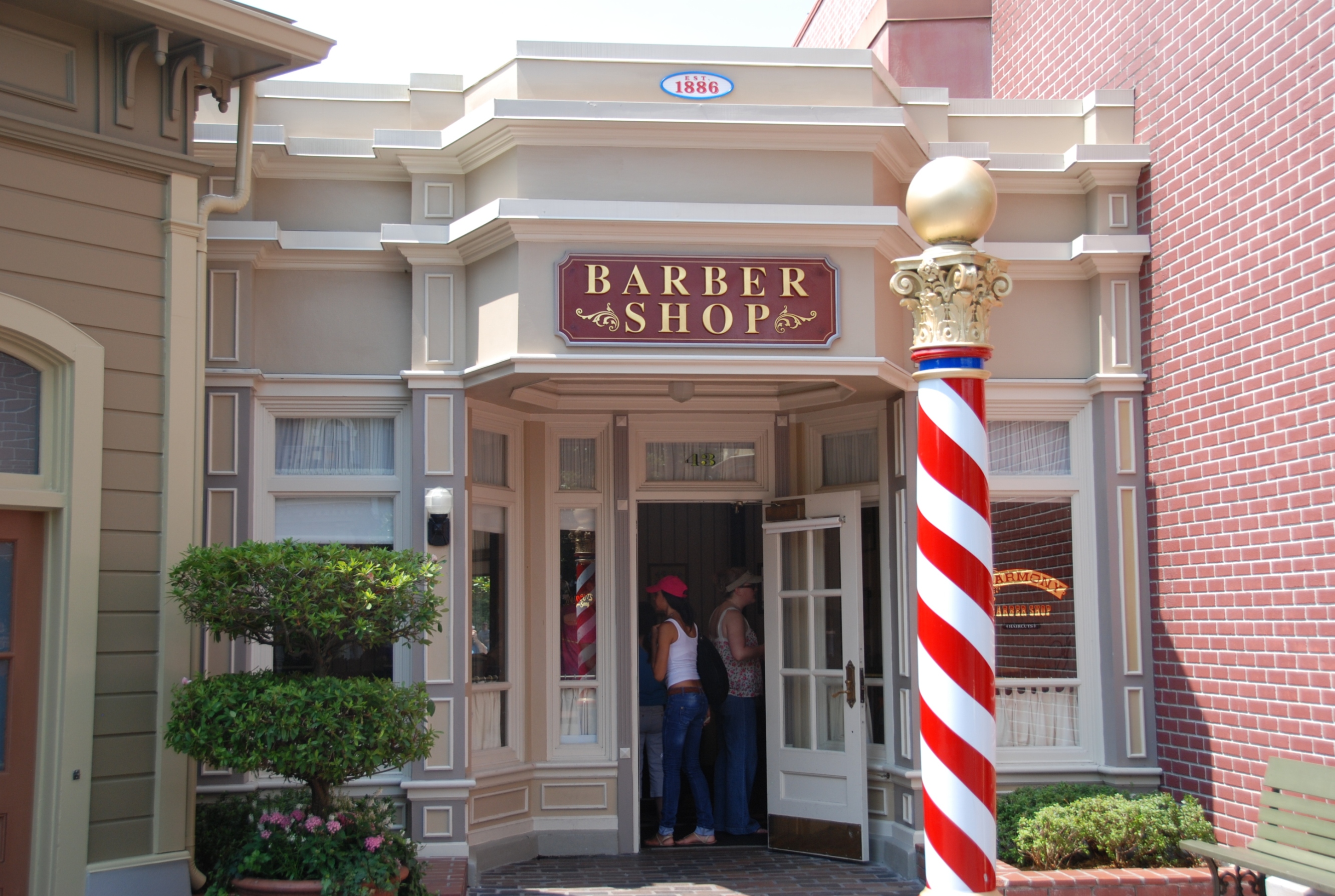 Walt Disney World is full of interesting facts, firsts and trivia. One of the lesser known tidbits, is that there is a real working barber shop just to the left of the Emporium that does more "First Haircuts" than anywhere else in the world. Known as the Harmony Barbershop, and decked with a traditional barber pole outside, anyone can have a trim on a walk in basis. If you just got a pre-trip snip at home, you can go simply to get colored hair gel and glitter if it suits you. But their speciality is truly the First Haircut, and currently priced at only $18 its one of the better deals at Walt Disney World.
Our DS #3 then age 2 getting distracted with Mickey stickers. See those baby curls in back?
Depending on the time and season, you may have a short wait, or sometimes even over 30 minutes, but you can always return later in the day. They have in recent years added the availability of an appointment for first haircuts, and you can call 407-WDW-DINE to make one. The two occasions that we have visited the Harmony Barber Shop, we have walked-in with little to no wait.
For first haircuts, they have booster seats to sit the child up nice and high. To keep my son's mind off what was happening, they covered him in those free Mickey stickers you see Cast Members handing out everywhere. He was fascinated, and consequently did just fine with his first haircut experience. While he eyed the hairdresser with a suspicious eye, he did sit still and with no tears allowed her to cut off those sweet baby curls he had in the back.
Because a First Haircut is a special occasion to be remembered, those first curls are carefully kept and wrapped by the cast member in tissue and sealed with a Mickey sticker so you can take a lock with you. Additionally, you receive a certificate to commemorate the occasion. The best part of the whole deal though, is the included pair of Mickey ears with the embroidered words "first haircut" on the back. Not only is it a great souvenir, but it makes for fantastic photos for the rest of the day.
He looks a little mistrustful doesn't he?
Tada! Classic Disney moment! I'm pull this one out for the girlfriends....
The baby curls are all gone!
So if you have a little one in your life who has yet to receive their first haircut, try holding out for your next trip to Walt Disney World and make it a truly special "first". The Cast Members that work there are very good at putting your child at ease, and I'm sure have see probably every different type of reaction a child can have to the situation, so you can feel confident that your child will be in experienced hands. I know we will surely have our new little princess's first trim done on Main Street, when she finally gets some hair....
For a little more information, check out this neat video from the Disney Parks Blog about the Harmony Barber Shop: