After a minor hiccup I am on my way, and running on fumes! I got up at 9am Tuesday, put in a 7pm to 7 am night shift and got maybe a 2 hour nap. Pushed through the day, then tried to take a snooze from about 9 till 2am. Unfortunately, I was awakened twice by a horrid shrill alarm. My brand new weather radio, which was purchased after the recent tornados in the south, was going off. I'll need to figure out how to lower the volume on that thing! I want to know if a storm is coming, not scared half to death that the Russians are bombing! Yikes! According to the radio, a thunderstorm was coming our way....dun dun dun...
Up and out the door on time at 0310. Hit some rain, and got a beautiful show of lightening the entire 100 mile journey to Chicago. At one point through Gary this storm was so strong, I had to slow to 35 mph. The lightening was so bad, it was like a strobe light at some aweful party, and I strongly considered pulling over. BUT... just keep swimming!
Once on the plane I was ready to go, and ready, and ready... Yup, that darn thunderstorm was back to haunt me. I think mother nature was angry with me because the second time the radio alarm went off I unplugged it and removed the batteries! We were delayed 50 min for the storm. So much for my hope of getting in a few minutes early and making the 8:30 Disneyland Express. Now I was just praying to make the 9:30. I did! This is where I sit now on my way to see the Mouse. It's kinda overcast and gray, but it's not supposed to rain.
I got a good rcommendation on the Disneyland Express. Nice clean bus, and on schedule.
The Disneyland Express worked great. I was able to find a coupon online and received $5 off per ticket, so the final price was $17 for the one way journey. Very easy to find and use, and I would definitely use the service again. In comparison I priced out a taxi, and it came to $113 before tip! Even my Southern California native friend was impressed by the price, as she had never heard of it.
I requested to get off at the Grand Californian as was recommended by a fellow MO. It truly is a beautiful hotel. The lobby is very dark and reminiscent of VWL or AKV. I loved it!
I wandered out toward downtown Disney and saw this in the window, a Disney Couture wedding dress. WOW! I wish there were Disney dresses 9 years ago when I tied the knot.
My goals were conflicting in that I knew I needed to eat, but the Disney commando in me was desperate to get on some rides before the crowds swelled. I abandoned my original plan of finding the Jazz Kitchen take out window for beignets. I have never had one, and was anxious to try some, but the commando won out. I dis not pass the Jazz Kitchen on the way toward the parks, so I just decided to go hungry for a while. Here is a really cool sign outside the World of Disney store on the way to the park entrance.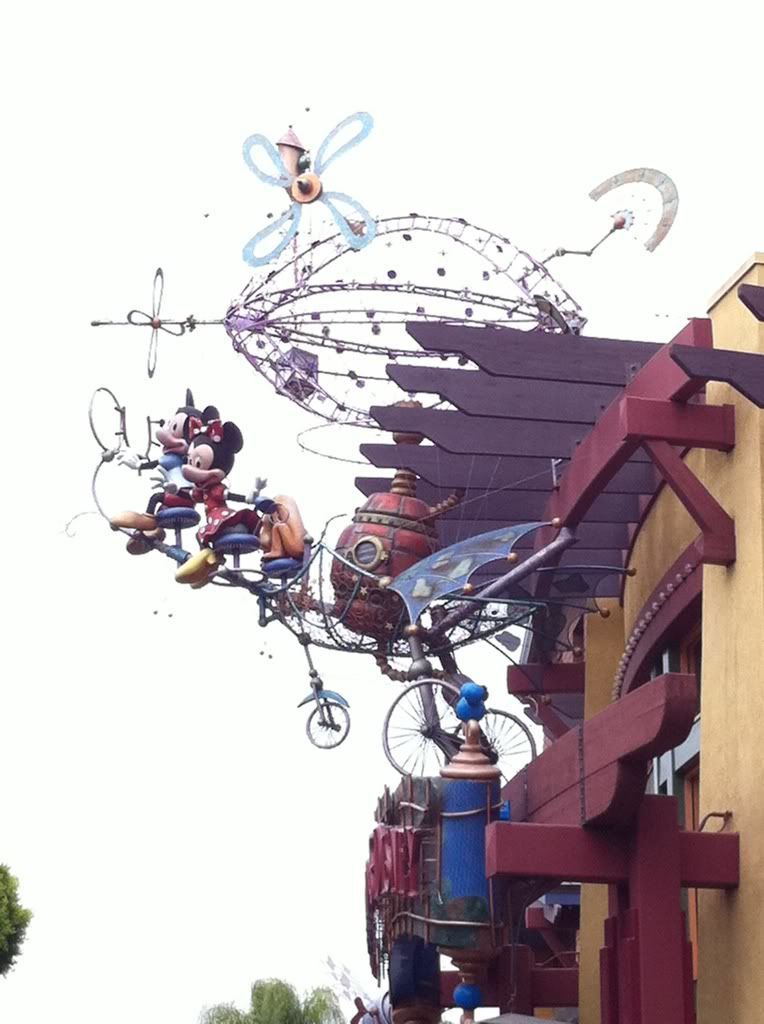 I made it to the park entrance and through the bag check. The poor lady had to go through my big packed bag from the plane! Then I was able to rent a medium size locker in the plaza between parks. I was sort of intimidated by getting a locker. Silly I know. It was super easy. $10 for a days rental.
I swear this sign said Disneyland. It must have rotating pictures.
I made it into DCA, got my birthday pin, made a wrong turn in Albequerque, and made it to Voyage of the Little Mermaid. The stated wait time was 30 min so I jumped in the line.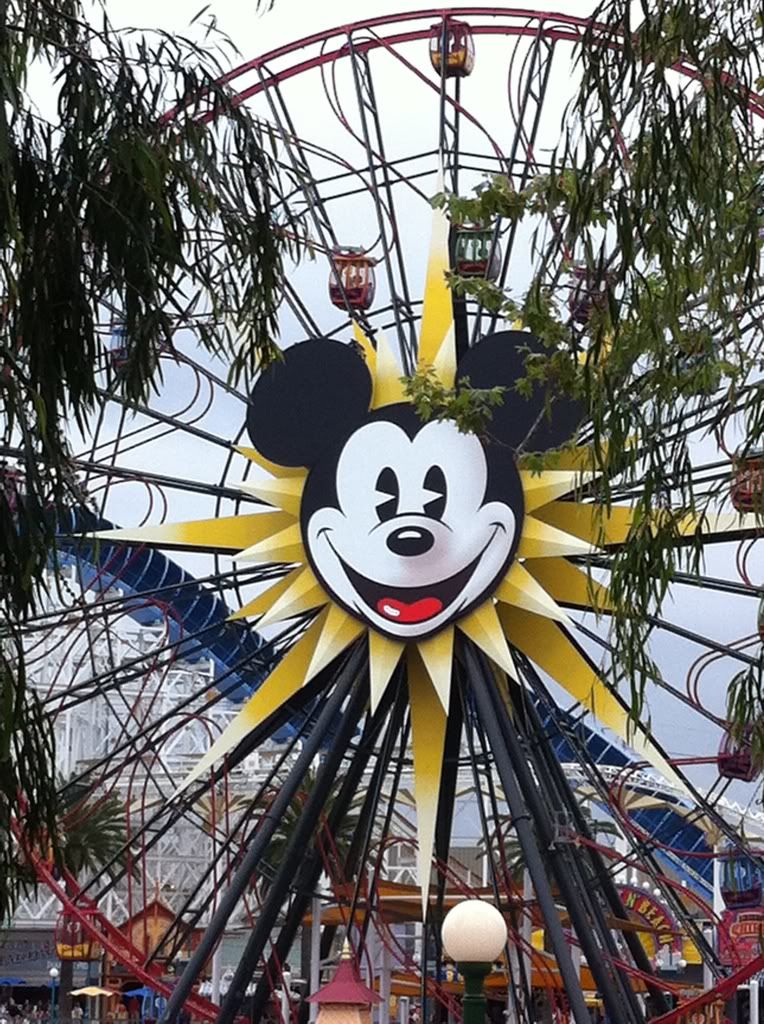 Hidden Mickey scrollwork in the LM line
Shells embedded in the sidewalk along the line.
Mural at loading dock.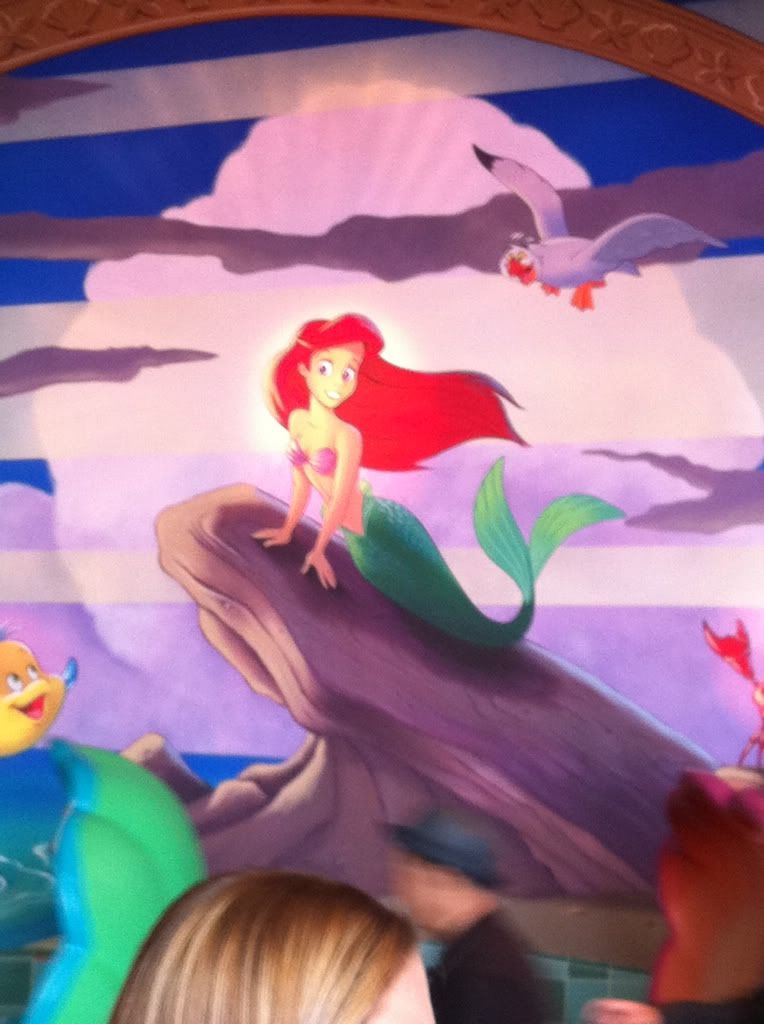 Shell cars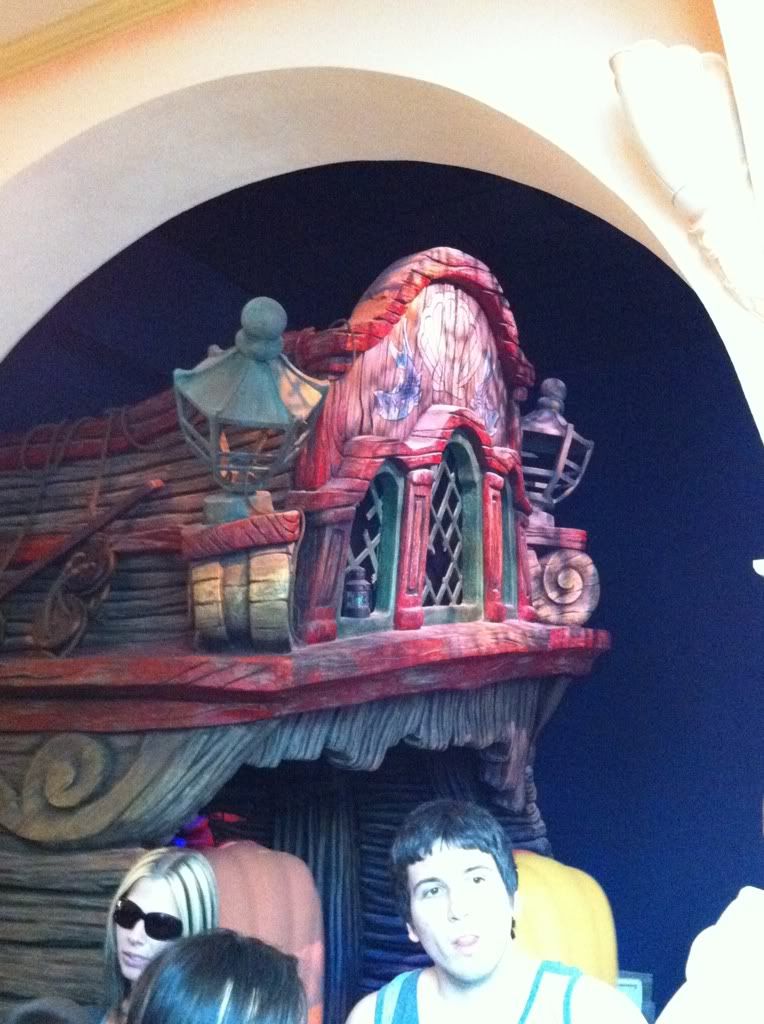 Entrance into the ride at Loading dock, you go through the back of the boat.